Mounted Tyrannosaurus rex Skeleton

TE-036

Species: Tyrannosaurus rexmore

Composited Fully Mounted Skeleton

more

Skeleton: 45% complete (135/300)

more

Skull: 44.44% complete (24/54)

more

Hell Creek Formation (MT)/ Lance Creek Formation (WY)

more

Garfield Co. Montana/ Weston Co. Wyoming

more

Late Cretaceous (Maastrichtian)

more

Collection Date: (2012-2014)

more
Specimen TE-036 is a premium quality composited example of the "Tyrant Lizard King," Tyrannosaurus rex. The specimen is composed of three partial skeletons of comparable scale and quality from both the Hell Creek and Lance Creek Formations, both renowned localities for the high quality  Tyrannosaurus rex material that has been recovered for many years. TE-036 takes its place among display specimens and is fully mounted and ready for exhibition.
All fossils recovered have been fully cleaned and stabilized for mounting. Bones are of a very good quality overall, exhibiting beautiful detail, solid outer surfaces, and a natural dark brown patina common to fossils recovered from iron rich geological formations such as the Hell Creek and Lance Creek Formations.
– Overall skeleton: 42.42% complete (126/297) with representative material from all skeletal regions
– Skull count: 34.5% complete (19/55) with skull material from one site
– Postcranial skeleton: 44.21% complete (107/242)
The material composited to complete TE-036 dates to the Maastrichtian age of the Late Cretaceous epoch, roughly 72 – 65.5 million-years ago. Tyrannosaurus rex was among the last of the dinosaurs extant at the time of the extinction which abruptly ended the Cretaceous.
TE-036 contains Tyrannosaurus rex fossils from two of the post prestigious geological formations in which T. rex fossils are recovered. The Lance Creek Formation of northeastern, Wyoming and the Hell Creek Formation of eastern Montana share similar geology and faunal species due to the relative age of their respective sedimentary layers.
TE-036 was compiled with material from three partial Tyrannosaurus rex specimens recovered in Montana and Wyoming. All three sites were comprised of a similar matrix, largely clay/ mudstone, which is generally indicative of a slow moving aqueous environment. Although the specimens and their respective sites were quite remote from one another, the similar conditions of preservation and overall size have made the materials a natural fit for a composite skeleton. Absent bones are replaced with high quality replica.
TE-036 Hell Creek badlands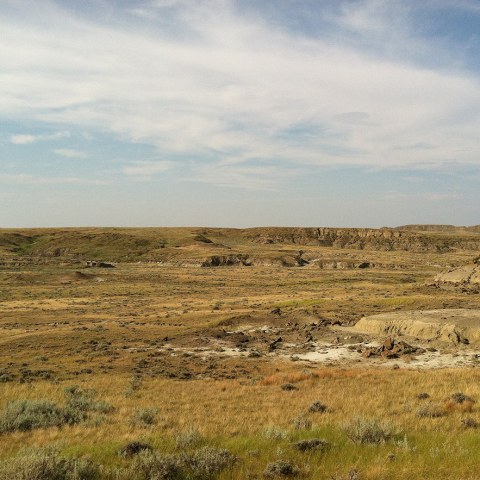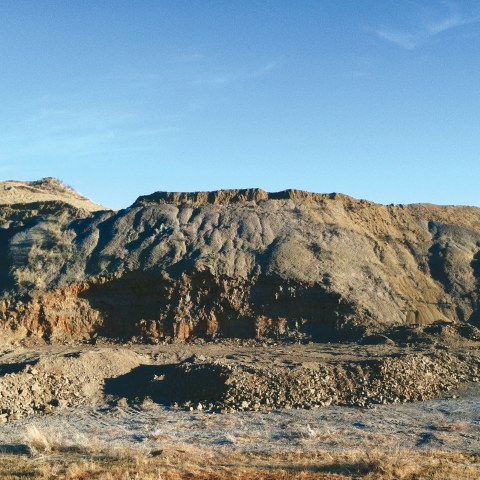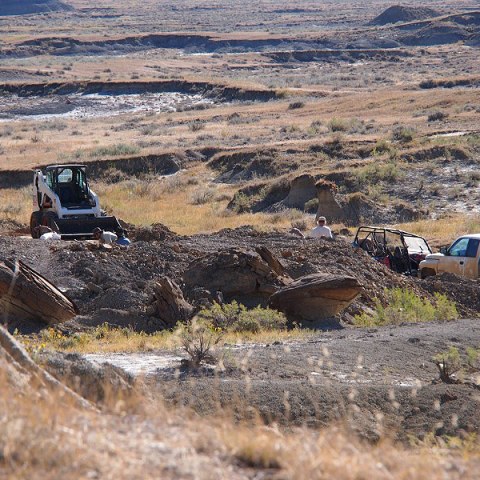 TE-036 Preparing for collection jacket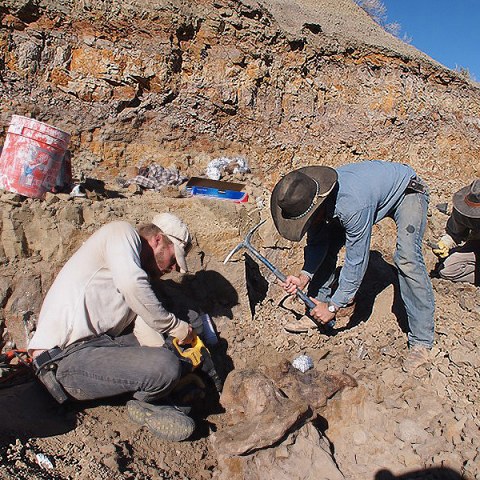 TE-036 Ilium and vertebra centrum in the field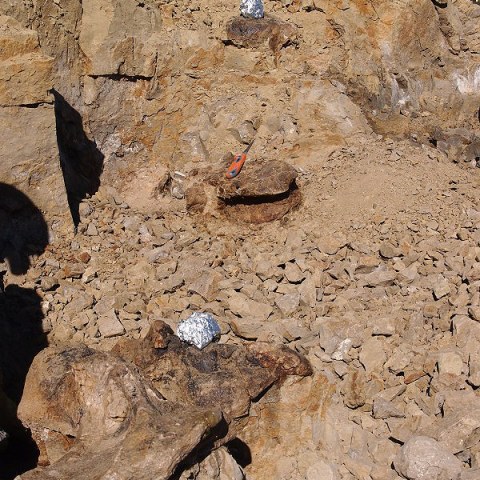 TE-036 T. rex site summer 2012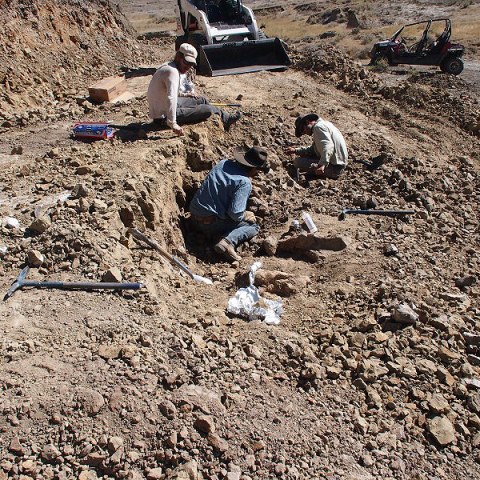 TE-036 Vertebra centrum in situ
TE-036 Vertebra centrum (detail)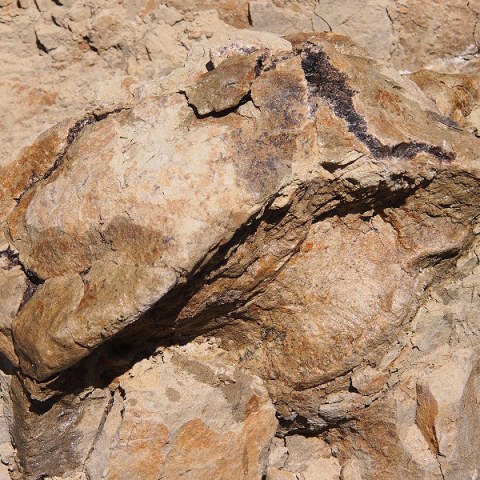 TE-036 Field work summer 2012
In 2008, Clayton Phipps, a longtime resident of the prolific Hell Creek Formation, came upon Tyrannosaurus rex remains on the private ranch of a cousin, outside Jordan, Montana. The site (TE-CPR) produced a partial T. rex specimen of exceptional quality. The exquisitely preserved bones, which he collected through 2013, now make up the majority of the axial skeleton and pelvic area. Later, in 2013, while prospecting the private ranch of a neighbor, Clayton came across the distinct bones of another partial T. rex (TE-JWE), which has contributed material to complete the axial skeleton.
The skull of TE-036 comes from a third partial specimen discovered in the Lance Creek Formation of Weston County, Wyoming. The site (BS1301), which was completed in 2013, produced the skull and a variety of postcranial elements including vertebra and portions of the hind legs. The three partial skeletons came together in 2018 as TE-036 and are posed with the outmost attention to the most recent anatomical models of Tyrannosaurids.
TE-036 (Left from behind)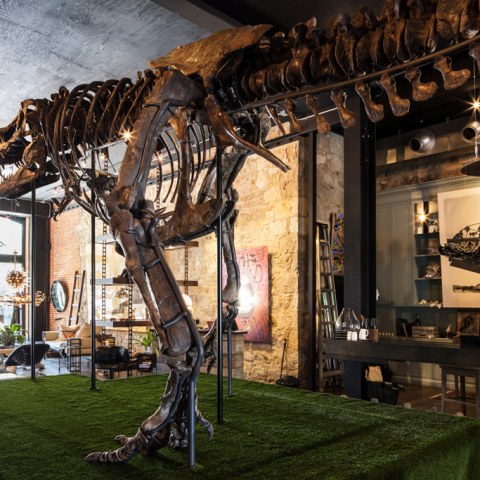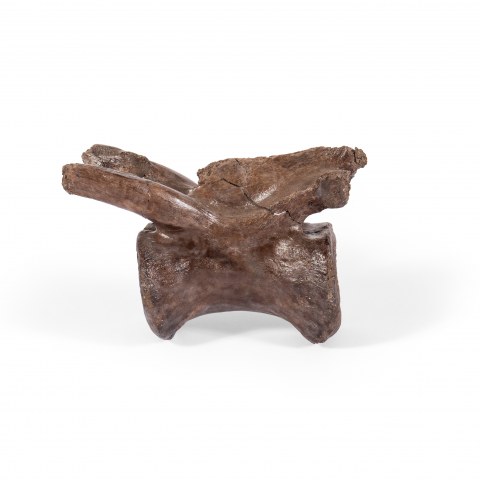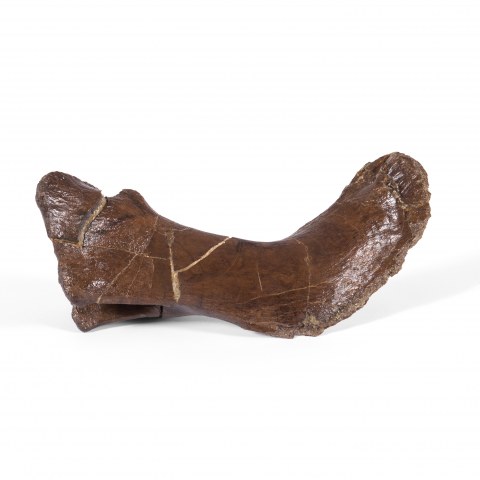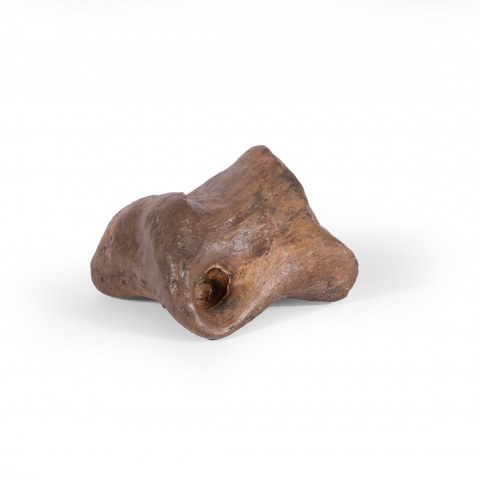 TE-036 Fused caudal (pathologic)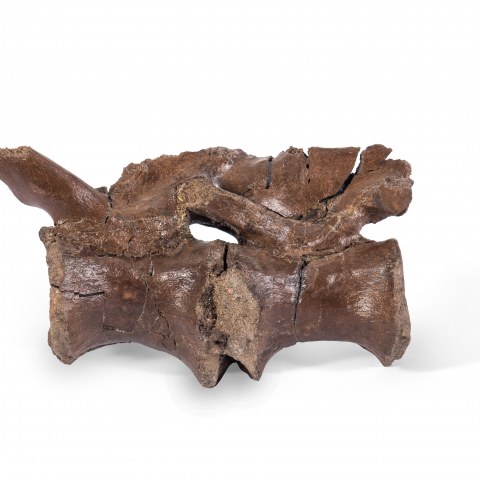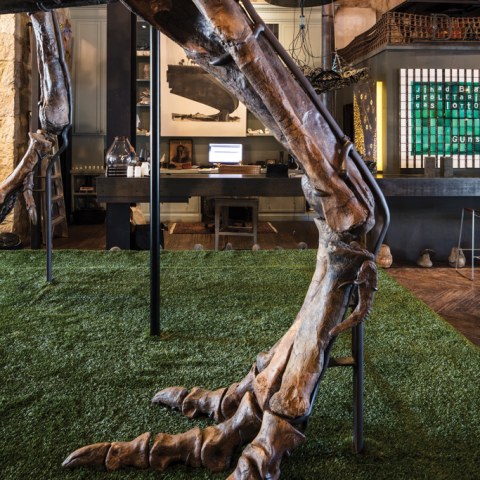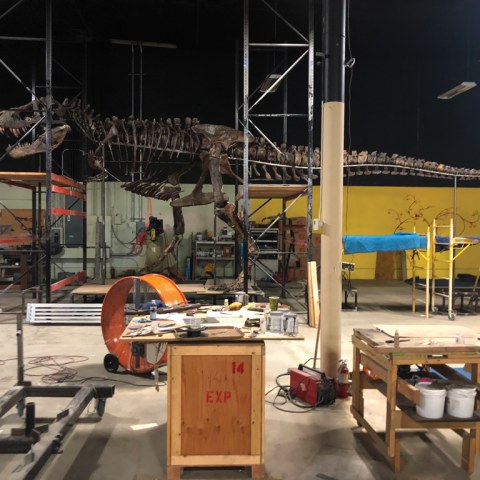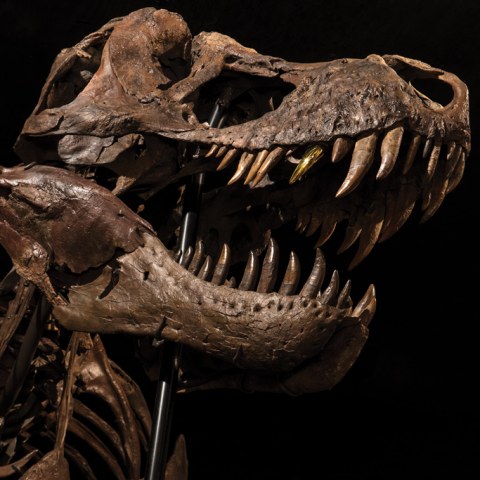 – Applicable quarry Maps
– Inventory lists of all collected material
– All field and laboratory photos
– All field and laboratory notes
– GPS location data
– All legal documentation including signed lease agreement
For inquiries and all information concerning TE-036, please contact us at
For general information or interest in our full project catalog please visit us at:
All documentation and materials will be transferred to buyer at the time of purchase.
Documentation, materials, photographs, maps, legal documents, GPS data are available for inspection upon request.