Rare Articulated Juvenile
Brachylophosaurus canadensis
Brachylophosaurus canadensis was a member of the spectacularly diverse group of large bodied herbivores known as Hadrosaurids or more commonly "duck-billed" dinosaurs.  As early as the mid-1850s scientists had started describing members of the Hadrosaurid family, making them the first dinosaurs discovered in North America. They enjoyed an important position in their Cretaceous ecosystems as large herd dwelling herbivores, which allowed wide variations in range and evolution. Fossils collected form the Hadrosaurids are some of the most compete, best-preserved, and most thoroughly studied of all dinosaurs. Although many excellent specimens of adult Hadrosaurids have been studied to reveal valuable insight into morphology, phylogeny, and ethology, few juvenile specimens have been recovered for comparative studies of ontogeny.
TE-038 is an exceptionally well-preserved and articulated example of a juvenile Brachylophosaurus canadensis. Recovered with everything from the sacral vertebrae forward, TE-038 is one of the most complete juvenile hadrosaur specimens recovered to date.  Beyond the rarity of the find is TE-038's exquisite preservation and quality.  With a fully articulated skull, cervical and dorsal vertebrae series, and dramatically positioned arms, TE-038 can provide valuable information as the development of young hadrosaurs into mature adults.
The Judith River Formation comprises a vast expanse of sediment laid down during the Campanian age between 80 Ma and 75 Ma. The Campanian is the penultimate age of the Late Cretaceous epoch, before the extinction event which abruptly concluded the age of dinosaurs around 65.5 Ma (million years ago).
TE-038 was discovered in the autumn of 2013 on a private ranch in north central Montana, in the heart of the Upper Judith River Formation. The Judith River Formation is part of the Judith River Group, which is a series of Campanian Age sedimentary formations, running from the southern regions of Alberta and Saskatchewan, Canada into northern and central Montana in the United States. This group is known for the excellent preservation of its diverse flora and fauna.
TE-038 was excavated from a sand matrix situated on a steep cliff face high above a deep wash.  Sand deposits in the Judith river formation are quite common and indicate areas of swift moving water and sediment, which are critical components in the preservation of fossil material.  These deposits make the the Judith River Group particularly good candidates for the preservation of articulation and rare soft tissues.
TE-038 was discovered on a sandy cliff face high above a deep and poorly accessible wash.  The unlikely find was seen when two small vertebrae were discovered in close association weathering out of a nondescript patch of sand.  Upon further excavation into sand matrix, the vertebrae were discovered to be articulated and very well preserved.  The specimen was originally discovered lying on the left side, so the right side shows some disarticulation, mainly some ribs have drifted slightly from their original position.  After jacketing the body of the specimen, the specimen was inverted to allow a safer preparation of the articulated material.  TE-038 rests in a classic death pose, with the cervical vertebrae of the neck thrown backward and the head dramatically thrust upward.  The arms, collected separately, show an unusual position in which the arms are crossed at the wrists and may reveal valuable information on the posture of the Hadrosaurids.
TE-038 quarry map (in situ, before inversion)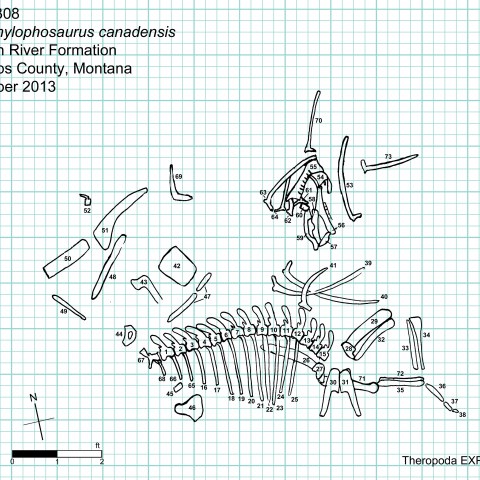 TE-038 Skeleton in matrix (right)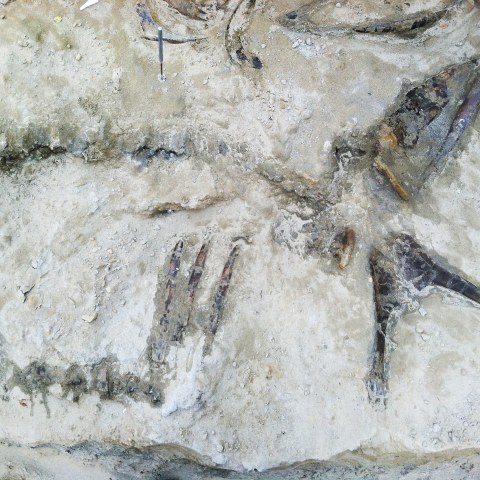 TE-038 Dorsal vertebrae series (detail)
TE-038 Sternals, scapula, and arms in situ
TE-038 Arms in matrix (detail)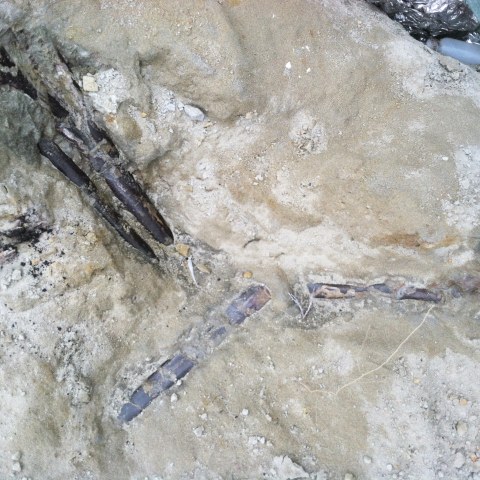 TE-038 Sternals in matrix (detail)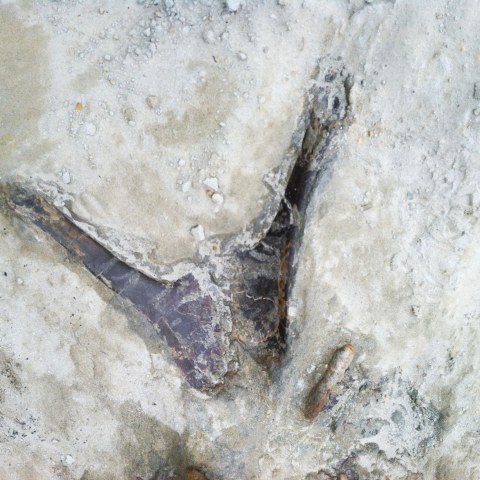 Order: Ornithischia
Family: Hadrosauridae
Subfamily: Saurolophinae
Genus: Brachylophosaurus
Species: canadensis
The articulated remains of TE-039 are of an exceptional quality overall, exhibiting beautiful detail, solid outer surfaces, and a gorgeous natural dark brown patina common to fossils recovered from the Judith River Formation. There is no sign of "pyrite disease" or other mineral issues that would represent a problem with future preservation of the fossils.
TE-038 Articulated skull and cervicals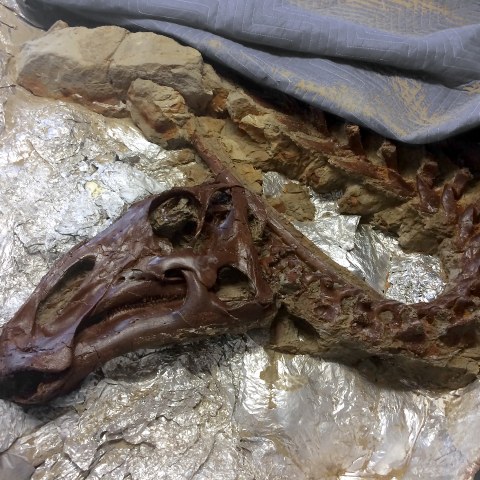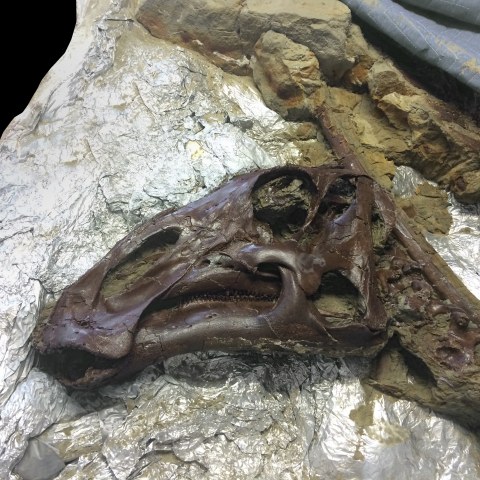 TE-038 Natural death pose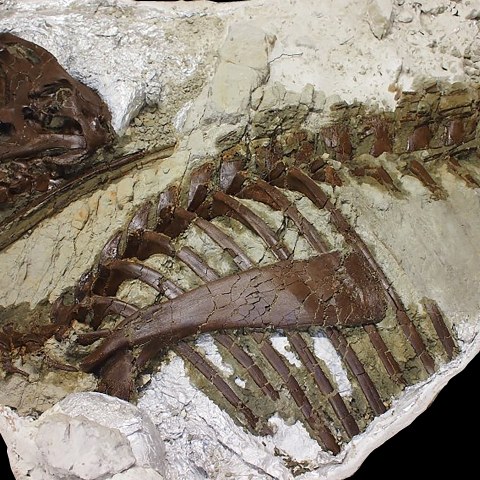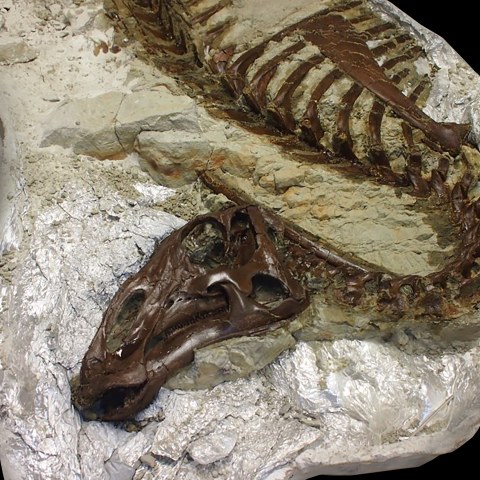 TE-038 Partially prepared skull (right)
TE-038 skull in preparation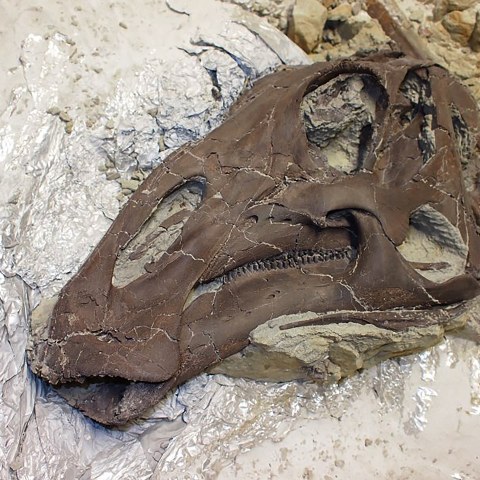 TE-038 skull in preparation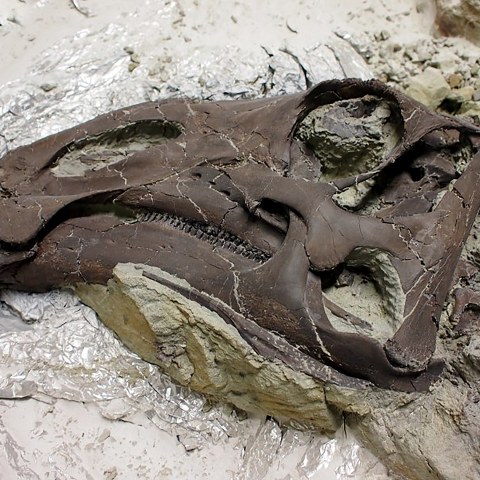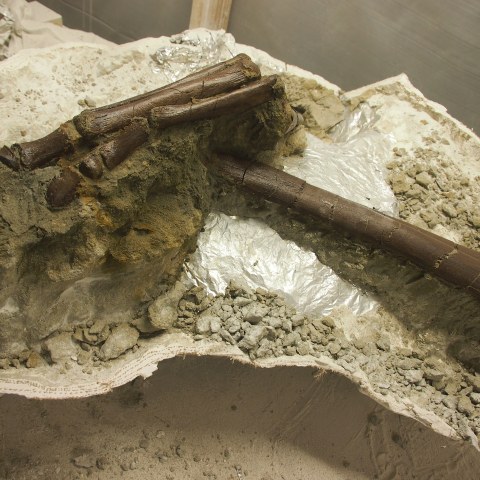 – Applicable quarry maps
– Inventory lists of all collected material
– Field and labratory photos
– Field and labratory notes
– GPS location data
– Legal documentation including, any signed lease agreement and Federal certification letter from appropriate agency if applicable.
For inquiries and all information concerning TE-038, please contact us at
For general information or interest in our full project catalog please visit us at:
All documentation and materials will be transferred to buyer at the time of purchase.
Documentation, materials, photographs, maps, legal documents, GPS data are available for inspection upon request.