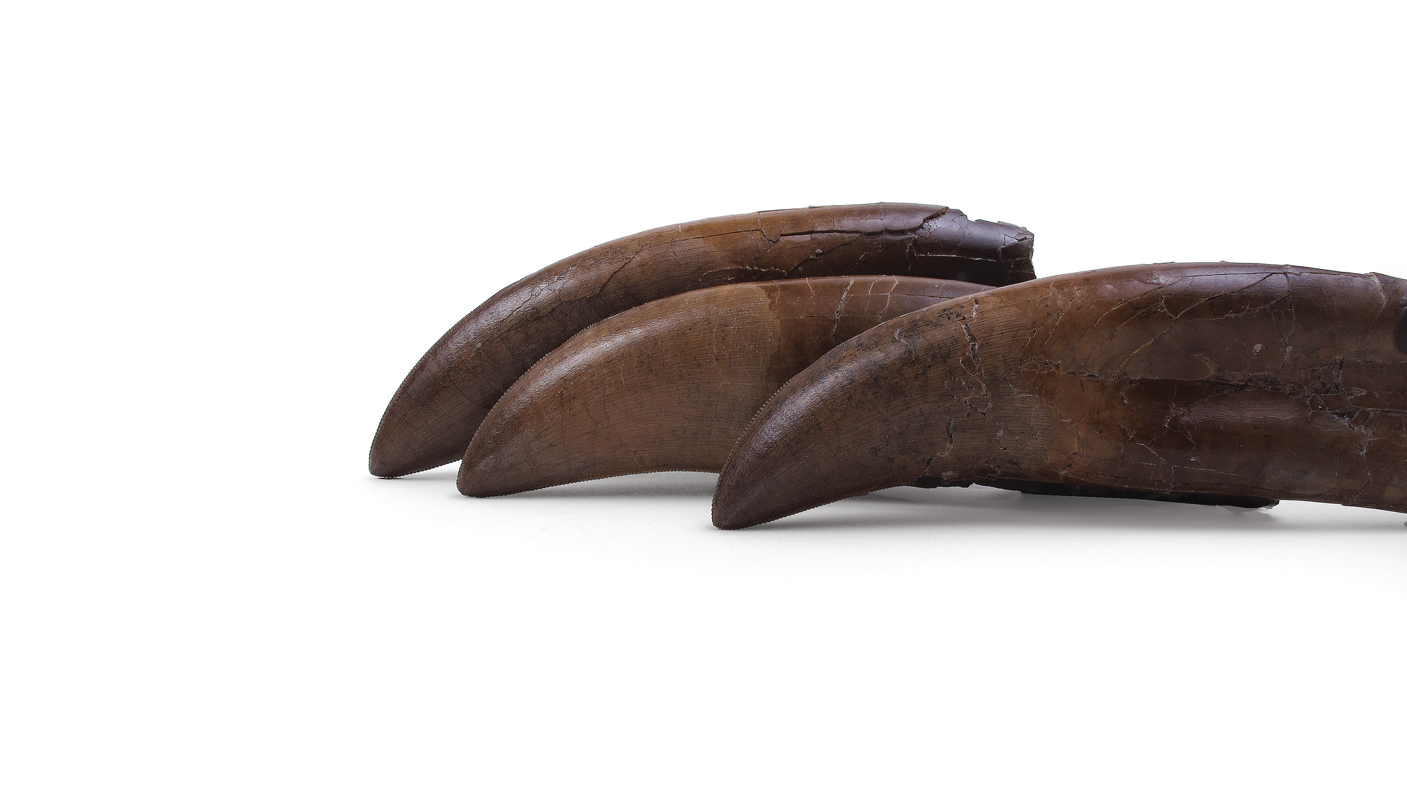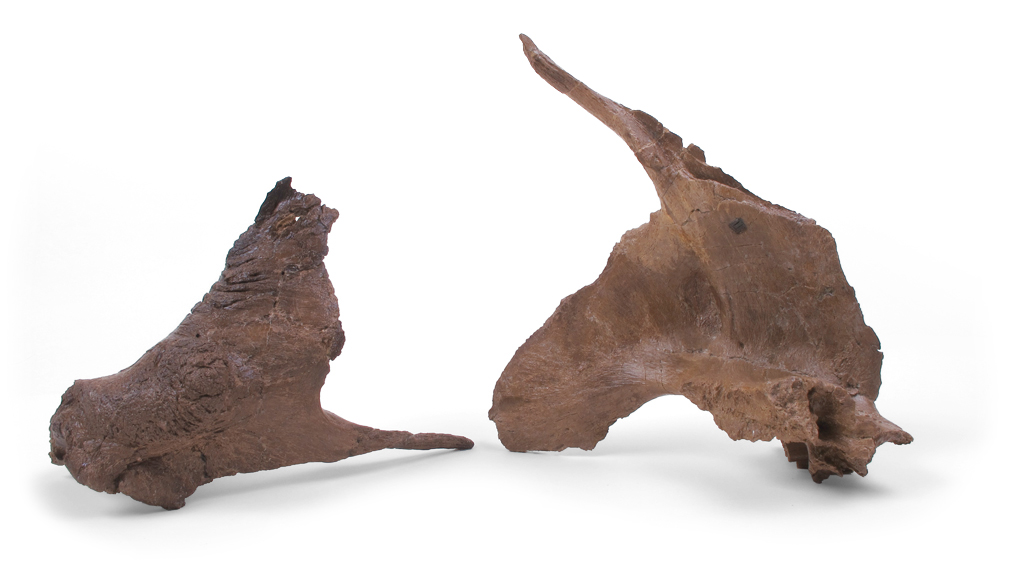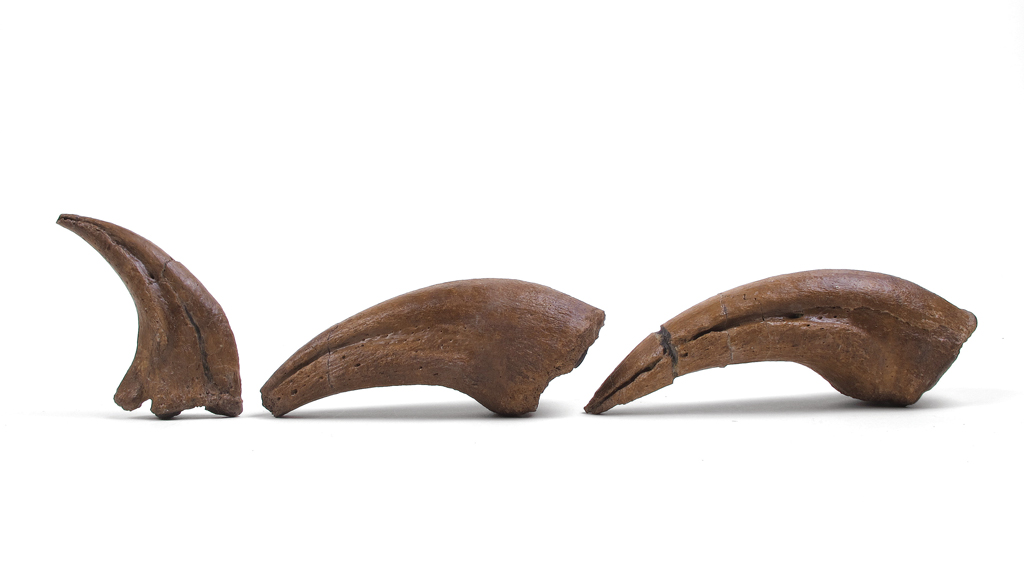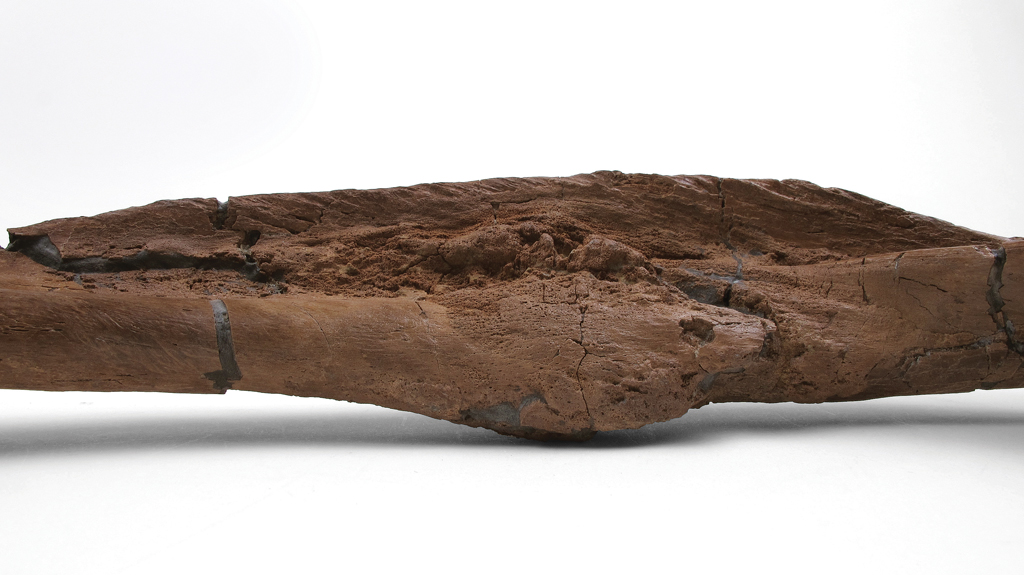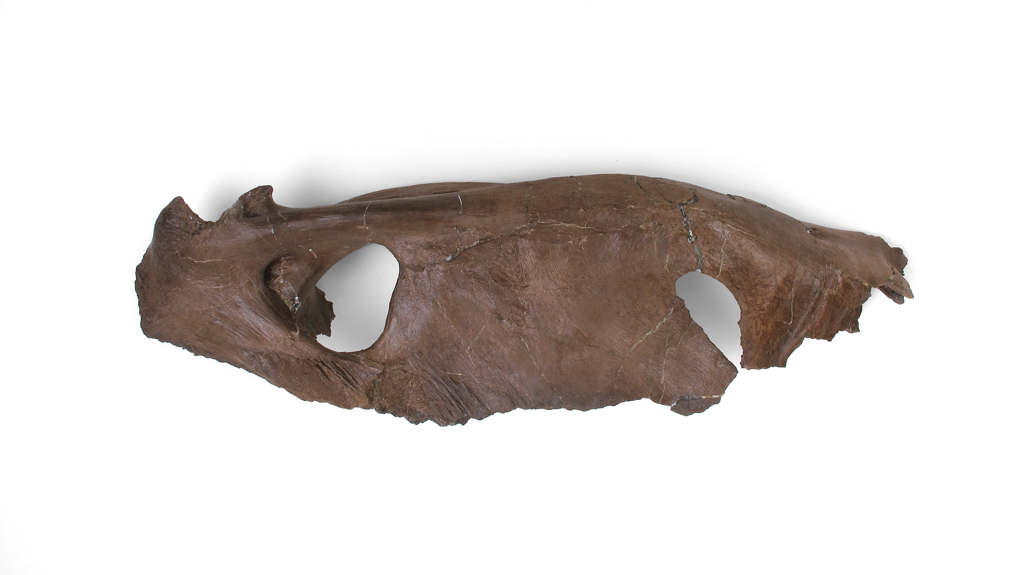 Leon -
Gorgosaurus libratus Research Specimen
This fine specimen of Gorgosaurus libratus (TE-039) was discovered in the spring of 2013, exactly 100 years after Charles H. Sternberg first discovered the species in the Dinosaur Park Formation of southern, Alberta. He had discovered a new apex predator, previously unknown to the Late Cretaceous sediments of Western North America; a species which would become one of paleontology's greatest resources in understanding the structure and behavior of the Tyrannosaurids.
The study of Gorgosaurus specimens found throughout the Judith River Group, including the Judith River and Dinosaur Park Formations, have produced discussions of morphology and ontogeny towards a better understanding for this family group. With new specimens comes access to more evidence, and the unique characteristics of TE-039, nicknamed "Leon," position this specimen to be a valuable asset to the long tradition of scientific data for this monotypic genus as well as the Tyrannosaurids at large.
The Judith River Formation comprises a vast expanse of sediment laid down during the Campanian age between 80 and 75 million years ago. The Campanian is the penultimate age of the Late Cretaceous epoch, before the extinction event which abruptly concluded the age of dinosaurs around 65.5 million years ago.
TE-039 was discovered in the spring of 2013 on a private ranch in north central Montana, in the heart of the Upper Judith River Formation. The Judith River Formation is part of the Judith River Group, which is a series of Campanian Age sedimentary formations, running from the southern regions of Alberta and Saskatchewan, Canada into northern and central Montana in the United States. This group is known for the excellent preservation of its diverse flora and fauna. Nestled on a canyon cliff face, TE-039 was discovered when a partial tibia and several pes phalanges were found weathering from exposures, high above the canyon.
TE-039 was preserved in a rich channel lag deposit, comprised largely of a silt/sandstone matrix with clay deposits.  This collection of fine sediment beautifully captures the diverse flora and fauna of this Campanian river ecosystem. In addition to the fossils associated with TE-039, the matrix preserved an assortment of freshwater mollusks, various plant species, reptile, fish and dinosaur fossils.  In the process of excavation, an articulated Ankylosaurid (TE-072), was discovered preserved in the sediment layers overlaying TE-039. The TE-039 river channel is a classic example of Judith River Group deposits, with a visible flow pattern distinguishable from the quarry map.
The quarry for TE-039 was a massive undertaking over two digging seasons. The tight proximity of associated material in the onset of the dig determined a probable flow pattern, which was pursued  through its termination over 80 feet to the East.
TE-039 May 2013 Field Work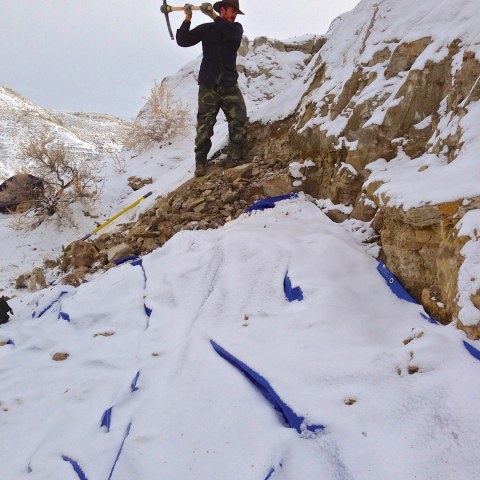 TE-039 Opening up the site May 2013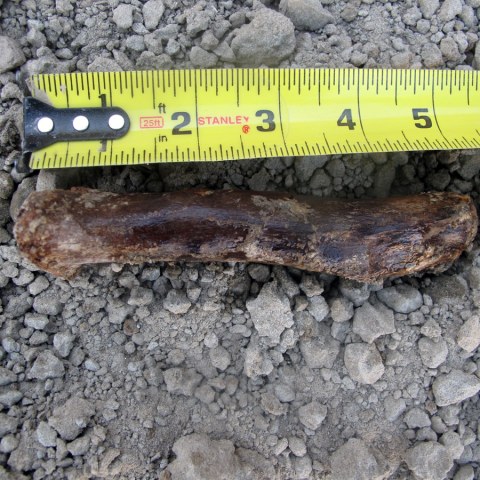 TE-039 Surangular in situ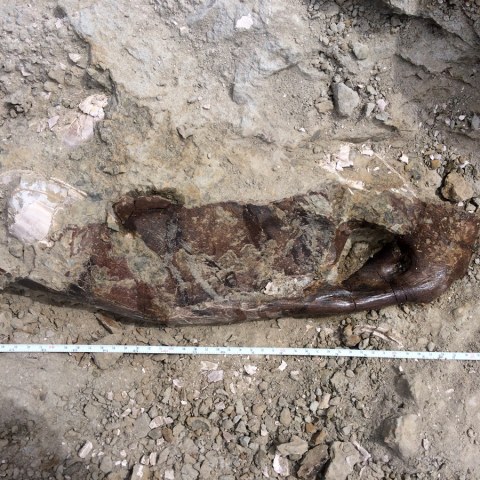 TE-039 Postorbital in situ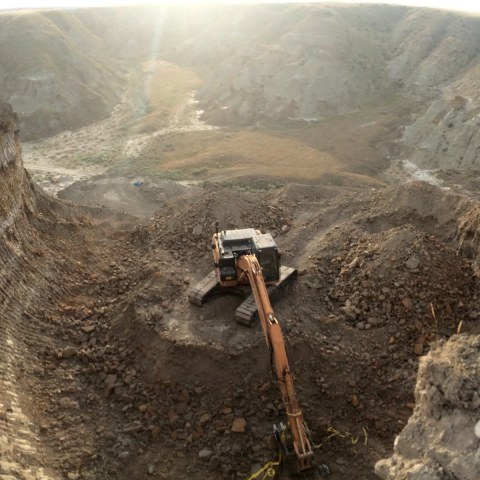 TE-039 is represented by 32% of the total specimen, based on an overall count of 294 bones.  Individual, identifiable bones from this specimen total 94, which excludes the 32 gastralia that are not included in the bone count. Interestingly, with 32 of the estimated 34 gastralia total recovered, TE-039 contains one of the most complete gastralia baskets discovered in any Tyrannosaurid. The specimen includes a 24% skull, with a total of 13 identifiable bones and excludes 14 teeth, both rooted and non-rooted, which do not contribute to the overall skull percentage. The appendicular skeleton is well represented in the specimen and includes several elements that show severe pathologies which were formed during the life of the animal.
The preservation and condition of the fossils of the Gorgosaurus are excellent. The fossil surfaces and structures are extremely stable and absent from mineral degenerative issues. The fine sediments in which the bones were preserved beautifully retained fragile bone elements, including several pathologies which have been preserved in remarkable detail. The patina is a light to medium brown, consistent with most fossils from the Judith River Formation.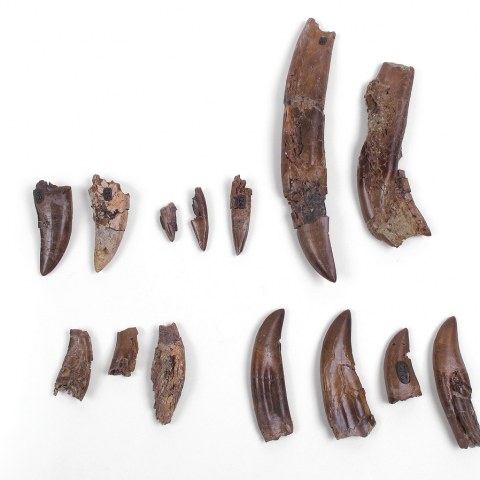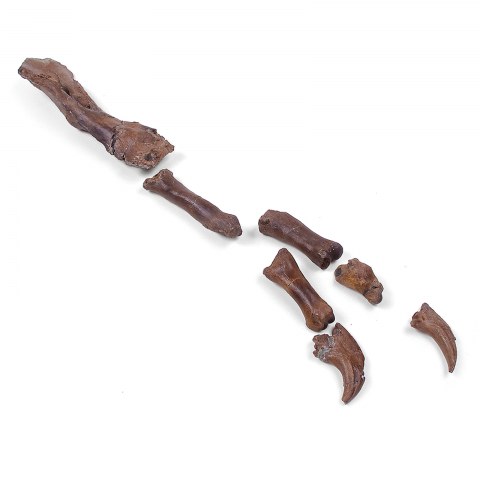 TE-039 Articulated gastralia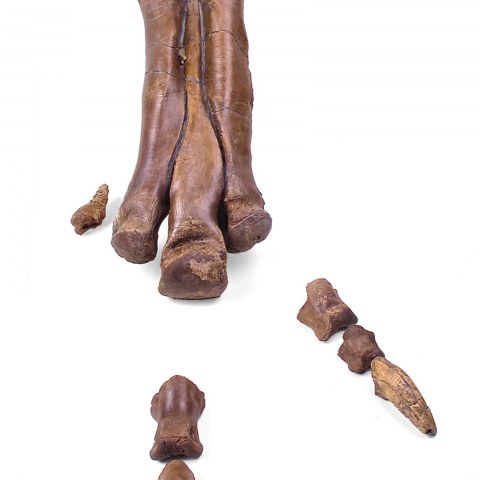 TE-039 Metatarsals (9/10)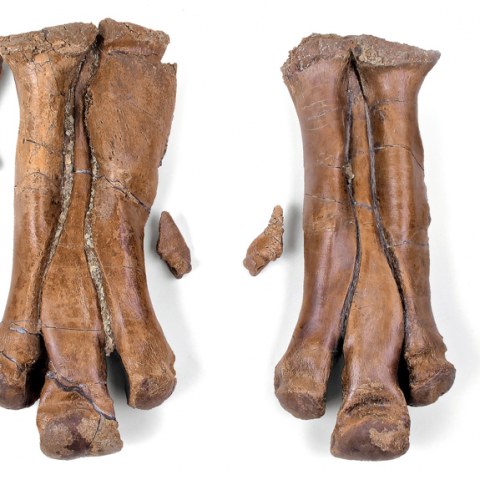 TE-039 Coracoid and scapula (left shoulder)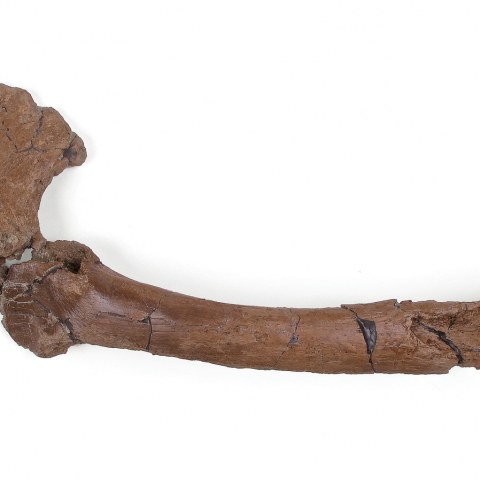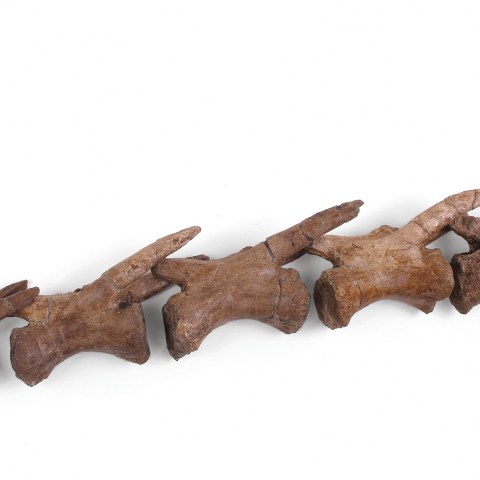 TE-039 Pes and manus claws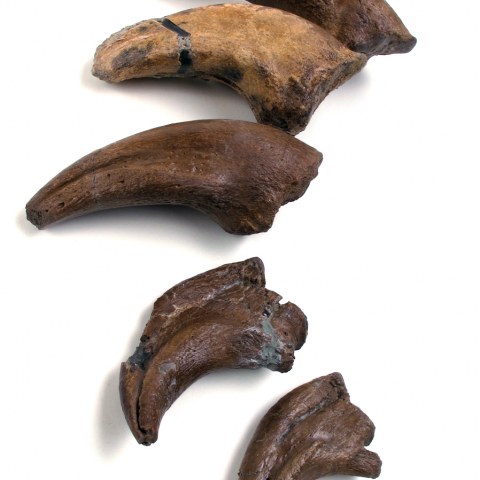 TE-039 Surangular (right)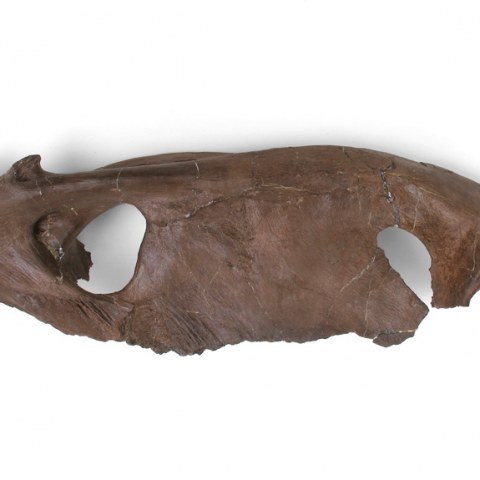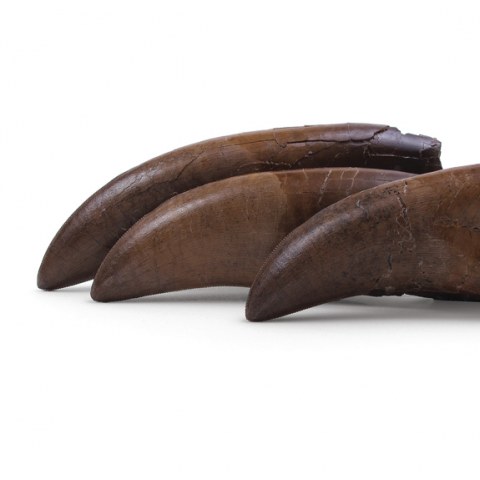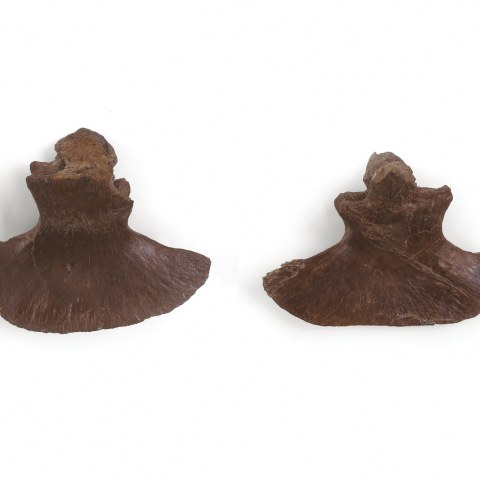 Pes phalanges (left iv.4, right iv.2)
Right pes phalanx (iii.2)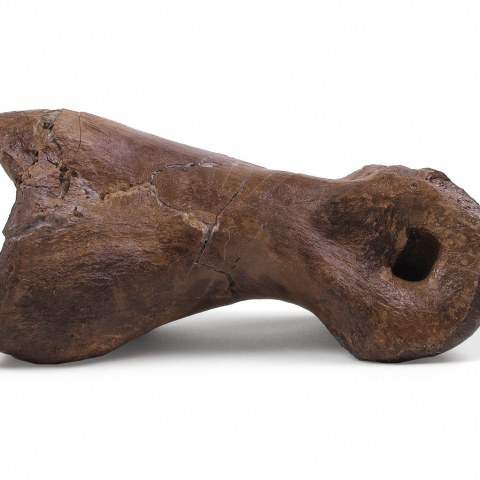 prearticularsRight and left prearticulars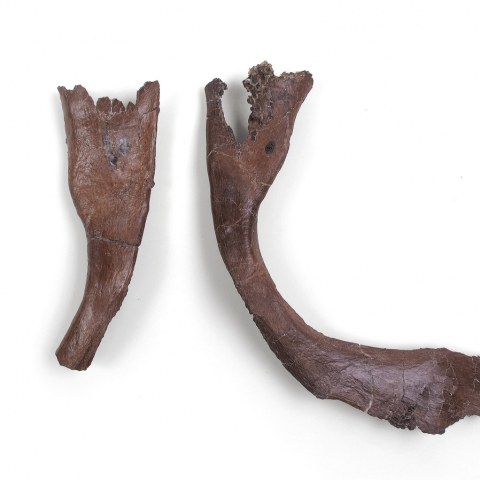 TE-039 Right quadradojugal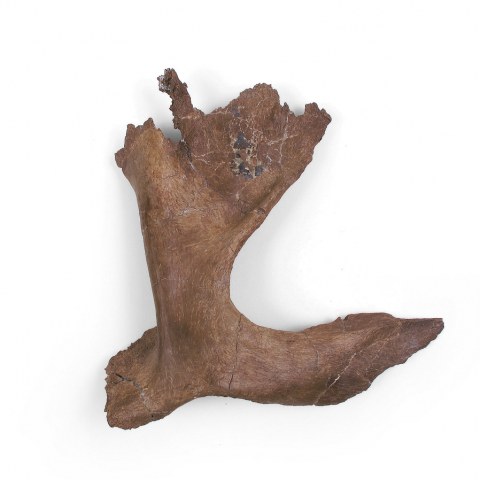 Order: Saurischia
Family: Tyrannosauridae
Subfamily: Albertosaurinae
Genus: Gorgosaurus
Species: libratus
A – Right Postorbital
B – Right Quadradojugal
C – Right Quadrate (partially obscured)
D – Right Surangular
E – Right Prearticular (obscured)
F – Right Palatine (mostly obscured)
G – Left Maxilla
H – Left Postorbital
I – Left Surangular
J – Left Prearticular (obscured)
K – Left Splenial (obscured)
Specimen TE-039 appears to be a mature individual and quite large for its species. As is often recorded in mature Tyrannosaurids, TE-039's skeleton exhibits a number of skeletal pathologies on nearly every region of its skeleton. In fact, TE-039 includes an unusually high number of pathologic elements, including broken ribs and severe swelling (osteomyelitis) of the metatarsals, phalanges, and vertebra. Osteomyelitis in the metatarsal groups (ii,iii,iv), on both the right and left side, appear to have contributed to their retention of articulation, while the remainder of the skeleton has disarticulated. Other notable pathologies include the high number of teeth that exhibit a split carina, the bifurcation of the anterior denticles –  six of the 14 teeth show this anomaly. Pathologies provide a rare insight into the morphology and ethology of individuals, and can reveal valuable data toward a better understanding of how a species may have looked and behaved. A complete list of pathologic elements is included in the element list.
TE-039 Right metatarsal ii pathology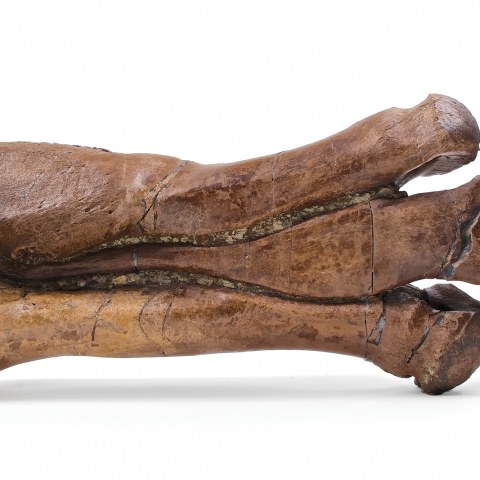 TE-039 Right metatarsal ii pathology (detail)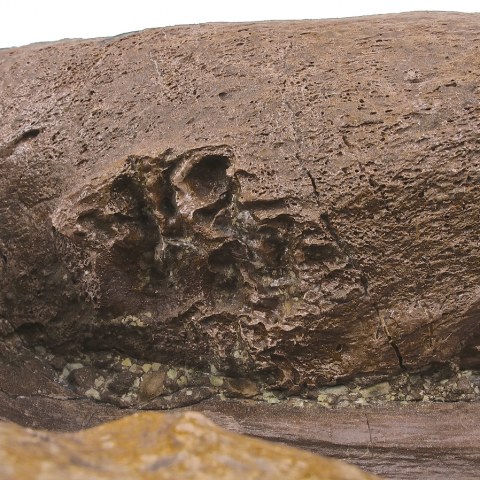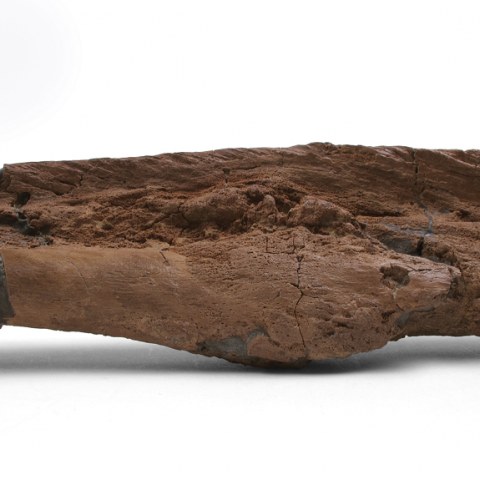 TE-039 Left metatarsal iv pathology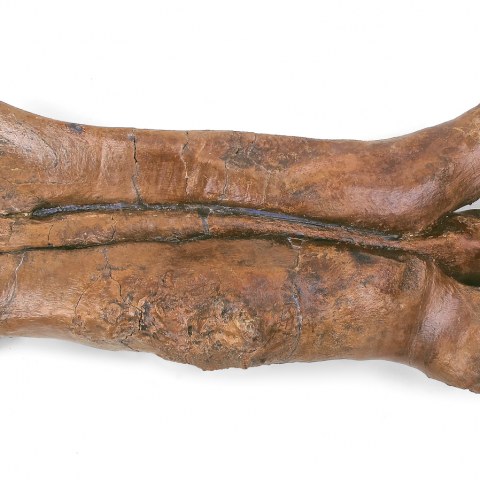 TE-039 Left metatarsal iv pathology (detail)
TE-039 Left metatarsal iv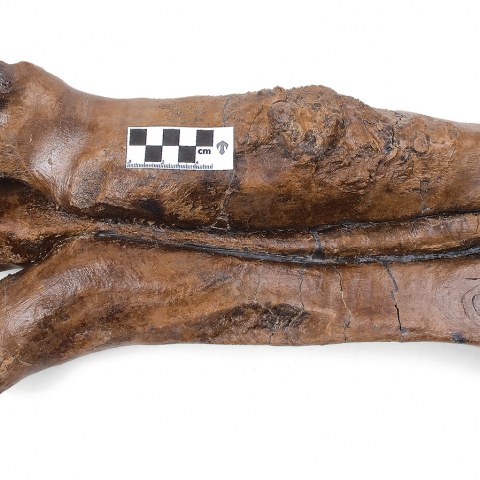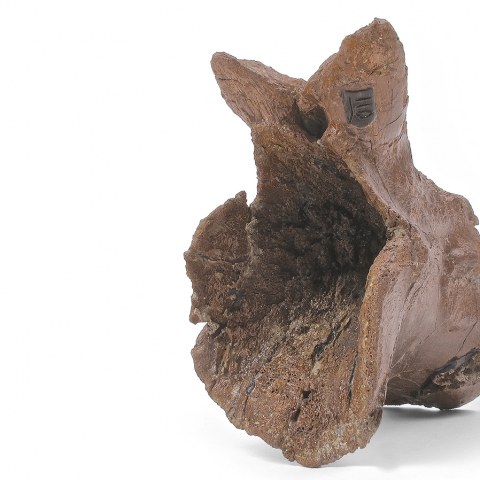 TE-039 caudal (lateral view)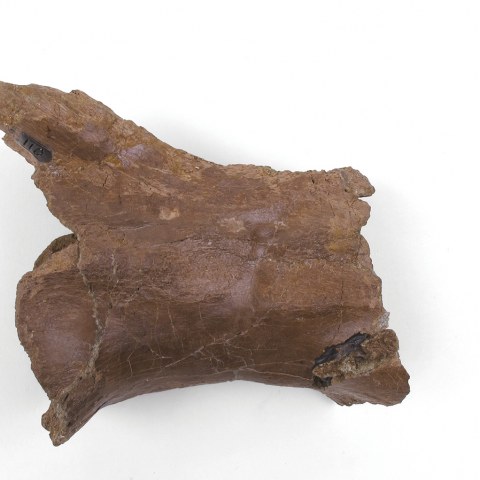 Specimen TE-039 was collected in a rich channel lag deposit, which beautifully preserved many representations of floral and faunal material. Collected alongside the Gorgosaurus libratus specimen, additional dinosaur material as well as turtle, crocodile, invertebrate and plant material. Most notable among the material are a number of interesting small theropod bones, hadrosaur cervicals, turtle shells, a turtle skull and a partial crocodile skull. This material, although interesting in its own right, can be studied alongside TE-039 to provide valuable insight into the diverse ecosystem in which Gorgosaurus libratus lived.   Please, see photo gallery right to see a sample of this material.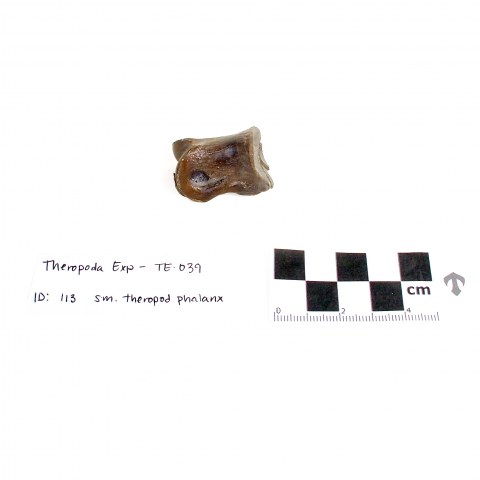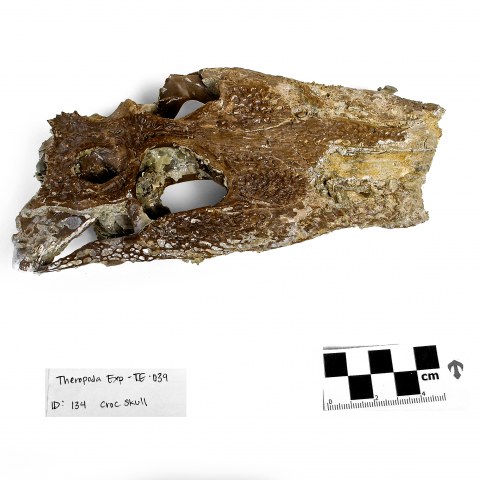 Turtle shell and clam shells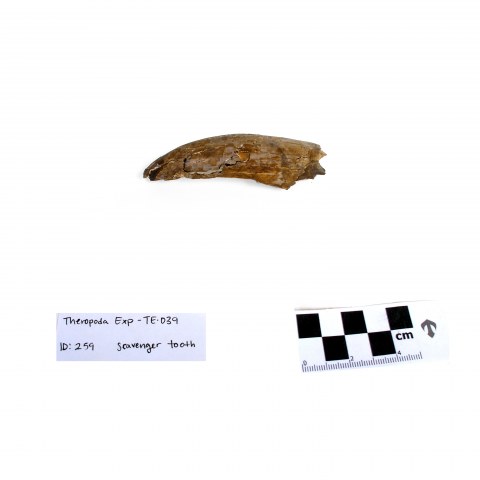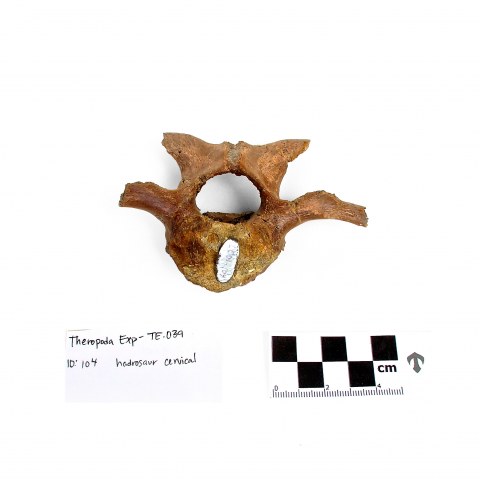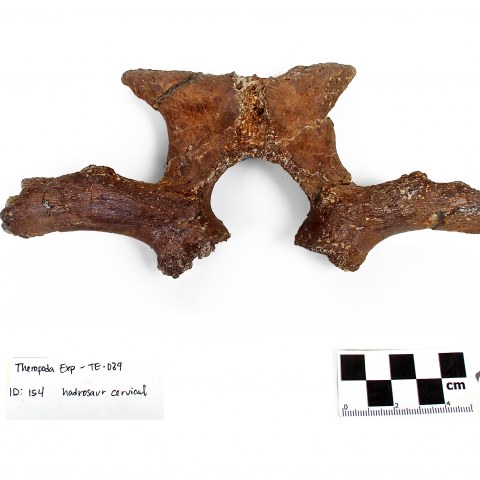 – Applicable quarry maps
– Inventory lists of all collected material
– Field and labratory photos
– Field and labratory notes
– GPS location data
– Legal documentation including, signed lease agreement and Federal certification letter from appropriate agency if applicable.
For inquiries and all information concerning TE-039, please contact us at
For general information or interest in our full project catalog please visit us at:
All documentation and materials will be transferred to buyer at the time of purchase.
Documentation, materials, photographs, maps, legal documents, GPS data are available for inspection upon request.